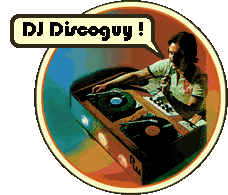 Claes "Discoguy" has been a DJ since the early 80's and has played at numerous parties, clubs and special events.
He have had regular guest gigs at Club Beat at Nefertiti in Gotenburg and his name has also been on the same playbill as the legendary Studio 54 discjockey Robbie Leslie for a unique Studio 54 event.

To pumping Disco rhythms he mix the music after the event. Focus may vary from everything like obscure 70's Disco to chart hits, through 80's Disco, Hi-NRG and Italo-Disco, over the decades right up to today's hottest Dance music.
Always 100% danceable and selected based on the specialization and preferences chosen by the customer.
With own remixes and edits of some of his favorite songs, he offers a maximum dance experience for the audience.

Musically he's close to the sound of DJ's like Joey Negro, Dimitri From Paris and Horse Meat Disco when he can choose freely.

He can play both vinyl and CD, even if CD is normally the preferred today.
Discoguy always play live and does not run predefined sets via computer or files.

Claes "Discoguy" is available for gigs all across the globe. The Arranger pays all expenses plus the fee for the gig.
An appropriate sound system according to Discoguy's requirements should be fully functional and available at the start of the event. If rental of equipment is required, then that's the sole responsibility of the arranger.

Suggested party structures along with the various types of music he can play is found via the links above.

Book Discoguy today for Your event.